Miami Beach, Florida has for many years been known as the No. 1 singles spot and home to the most physically beautiful people in America. So naturally, it comes to no surprise that the favorite past-time of locals and tourists alike would be people-watching! Follow the checklist and you'll "see" why we agree these are all great places to embrace the diversity of beautiful cultures.
Lincoln Road Mall
Lincoln Road Mall is an outdoor shopping mall and a major tourist attraction. Starting at just one block from the beach, extending to many blocks, you will find people galore. Most restaurants/cafes offer outdoor seating which makes it ripe to watch people from all over the world pass you by.
South Beach
South Beach is the most famous beach in Miami, which makes it the #1 beach to people watch. Not very many locals come here to get away from the tourists, unless they just want to meet new people, or there's a special event going on.
Ocean Drive
Pretty much anywhere on Ocean Dr is a great place to watch people. Almost all restaurants and hotels have outdoor seating. Whether you're sitting, walking, or driving, you are sure to see some beautiful people. It's the #1 spot to take a cruise if you want to be seen. Don't forget to take a peek at the Versace Mansion, now Casa Casuarina.
Mango's Tropical Cafe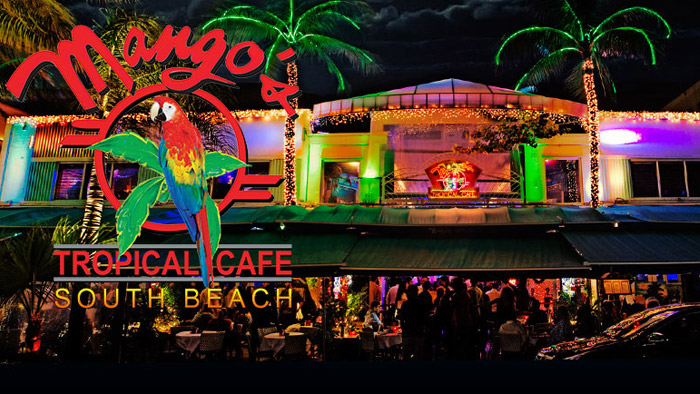 Yep, this is the place. The #1 tourist hot spot on Ocean Dr. Of all the places on Ocean Dr., this one is always hustling and bustling no matter what time of the day! I don't think anyone can say they've been to Miami and not been to Mango's. Here you will definitely see people from all over the world.
Washington/Collins Ave
I recommend the best way to explore these avenues if you want to people watch is by walking. These aves are located just before Ocean Dr. Washington Ave is where you may find most locals roaming around on Sunday brunch time. It offers some of the most eclectic boutiques and artistic shops. Collins Ave is more "touristy" because of all the hotels. Here you'll find people visiting from all over the world as well. Most of them will look lost so it's a good chance to start up a conversation with someone. It's also a great place to people watch at any of these hotels' bar/lobby/pool areas.
Nikki Beach
If you are a "poor ugly-duckling" like myself (haha), you may find Nikki Beach a little intimidating. This is where the rich and elite socialites gather to have some beach fun, both visitors and locals. A great place to people watch and rub elbows with millionaires! Full of swanky lounges, restaurants, and hotels, you may even spot some celebrities.
Bayside Marketplace
I'd have to say that my favorite place to people watch that feels more "natural" is at Bayside Marketplace. My favorite thing to do is watch the elderly locals dance away to some salsa on the open deck during live music. Not just people, but some breathtaking views of the bay and Miami city lights.